New offices opened!
Friday October 22nd marked the grand opening of our new offices. Moving from Finsley Gate to the prestigious 1st Floor Kingsway House (formerly the GUS Building), the celebrations were presided over by the Worshipful Mayor of Burnley, Mr Mark Townsend and his Mayoress, Kerry Townsend.
With over 100 clients, staff, friends and colleagues in attendance, the ribbon was cut to officially open the offices and also introduce MacMahon Leggate's new branding. Designed and implemented by local firm Media Village, the new logo adorns exterior and interior signage, all new stationery, and promotional items such as pens, coasters and mugs.
The offices were designed bespoke for our specific requirements by Alan Kinder and total refurbishment was undertaken by Darren Hamer of Optic Pine ltd.
Highlights from the opening speeches were The Mayor setting the scene with details of how MacMahon Leggate have built a strong reputation in Burnley since 1985 and how more recently have attracted the best accountancy professionals and embraced new cloud accounting technologies. He continued, "This growth is now to be underpinned by the move to these fabulous new offices and the re designing of their company brand to reflect MacMahon Leggate's position as the leading Chartered Accountant in East Lancashire.
MacMahon Leggate Chartered Accountants are a shining light within our business community here in Burnley and wider in the Northwest and I would like to wish them all the best during the next 36 years."
Kay Flanagan, Managing Director, thanked the Mayor, Mayoress and everyone for attending but also thanked her staff, "whose dedication, professionalism & hard work are the reason we have the successful business and reputation that we have today" She said "It is great to be able to share this moment with our clients too and hoped that the move will further cement our close working relationships."
Richard Robinson, Director, also thanked those present and went on to position his family as 'Burnley through and through' and MacMahon Leggate, with over 35 years in the town, as a great success story for Burnley and East Lancashire.
A buffet was enjoyed, and guided tours of the offices introduced the guests to the new professional working environment.
Pictures show:
Mayoress Kerry Townsend being presented with a bouquet of flowers from MacMahon Leggate: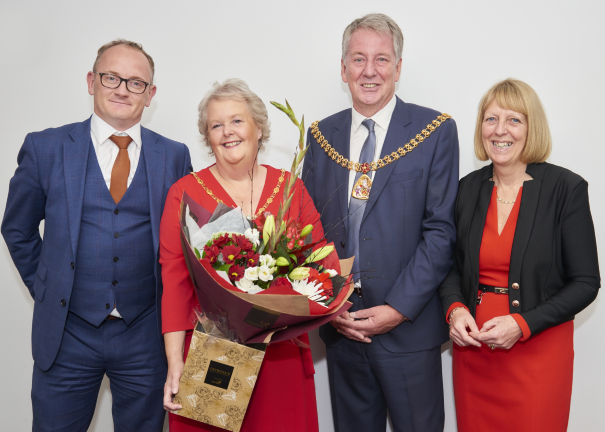 The Worshipful Mayor of Burnley, Mr Mark Townsend and his Mayoress, Kerry Townsend, flanked by Richard Robinson and Kay Flanagan, MacMahon Leggate – showing their new logo and reception: